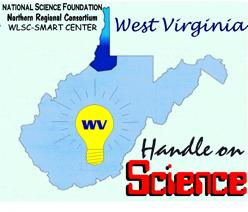 WEST VIRGINIA HANDLE ON SCIENCE
A utilization of 21st Century Learning Skills and Bloom's Taxonomy
"As citizens as well as workers, tomorrow's adults will need to effectively apply a range of scientific skills and knowledge to understand their world and communicate about it. That demands a set of skills that marries knowledge of science facts, concepts, and processes with the ability to use language clearly and precisely to comprehend, articulate, and communicate about scientific issues and ideas. How do we as a society address the issues of global warming? Should you take antioxidant tablets? Is food irradiation dangerous or beneficial?" The New Science Literacy, Marlene Thier, with Bennett Daviss.
West Virginia Handle On Science has sought to provide elementary teachers with procedures to blend language and science into a tapestry that reveals their meta-cognitive techniques. They learn how to help students become aware of the structure of their own thought processes and develop independent learning strategies. Some educators lack grounding in science content, but are comfortable in language skills, while others are grounded in science content but lacking language skills. West Virginia Handle On Science encourages the teachers to move from the comfort zone of what they already know to a new process that combines science with literacy skills.

West Virginia Handle On Science proceeded methodically to meet National Science Foundation's expectations. This project was selected by RESA 6 counties as the adopted curriculum for elementary science for the Northern Panhandle. Professional development sessions have addressed the science content of each kit that employs the grade specific WV Content Standards. In addition to the grade appropriate content, the following specific topics have been addressed: safety, questioning skills, hands-on inquiry science, learning cycle skills, process skills, multiple intelligence skills, and the integration of science with literacy, math, and technology.
Literacy and math are natural partners with science. They exist as a unit, not as separate entities. Literacy does not mean to assign a reading assignment and answer questions so that students can regurgitate facts (the two lower levels of Bloom's Taxonomy) but it does mean reading, writing, speaking, listening, and media analysis used by most teachers throughout hands-on inquiry based instruction of West Virginia Handle On Science kits in grades K-6. As a result of these strategies and performance expectations, the student can move up Bloom's Ladder of Taxonomy to the third level and beyond.
In the elementary grades, science gives meaning and purpose to literacy activities by providing a rich field of content that students are naturally curious about – their bodies, the sky, animals, etc. Also, the stronger the student's literacy skills the stronger their grasp of science will be. This combination gives teachers a great source for assessment of science as well as the literacy skills and "demonstrates that student writing provides a vehicle for teachers to follow students' changes in thinking …. Students' written ideas provide a window into their thinking processes." (Fellows, 1940)
The science kits of the West Virginia Handle On Science Project provide indirect vocabulary instruction by engaging the students in oral language of the kit. In the Kindergarten kit "Animals 2 X 2", students observe fish in an aquarium (both fish and aquarium are provided with the kit). As the students watch, the teacher asks, "What do you see?" and they responded, "A fish just went over the bridge!" Another said, "And now one is going under the bridge!" Directionality words are often hard for 5 year olds to understand. With the teacher's help, children start to record what they saw with words and pictures.
In a first grade example, the students were studying "Solids and Liquids", a STC kit. The challenge was to observe the differences in liquids. At the end of the lesson the children could use the properties "fluidity" and "viscosity" in their proper context with understanding. Because of this hands-on experience, many of these children used these terms correctly in later science investigations. By using the words in their journal about liquids and then creating a Venn diagram comparing the liquids, they have had an opportunity to develop their thinking skills.
Watching the butterflies go through metamorphosis in the second grade classroom is a memory that lasts forever. The excitement when the larvae and cages arrive sets the stage for six weeks of classroom awe. After the students place their larvae in the small cups with food, the experience begins. They work in groups watching, sketching, and discussing their new charges. When the larvae take the "J shape" under the lid of the container, serious miniature scientists proceed with great caution, knowing their new chrysalis was once a larvae and will turn into a butterfly. They rush into class each morning in anticipation. What change is inside of the net cage? "Wow! We have a butterfly!" exclaims one second grader. A few actually see the opening of the chrysalis as the painted lady butterfly slowly wriggles its wings loose to expose the symmetrical markings. Soon after, gleeful children open the window wide and set their butterflies on a skyward journey. But wait – the teacher encourages the children to take a close look at the inside of the net. What can that speck be? Several guesses are made, but one small second grader guesses correctly. It is an egg! Questions start, "Will it become a larvae?" "How long will it take?" Metamorphosis, one of their favorite words, now has real meaning.
A third grade class just finished the "Changes" kit. A Science Resource Teacher was visiting the class, presenting an extra science experience dealing with polymers. When asked what happened during their investigation of glue and water, many of the students shouted , "It's a chemical change!" Knowing the difference between physical and chemical change is not a small challenge. These children have the opportunity to record the sequence that made the polymer possible and then brainstorm what could be changed to make it different.
"Land and Water" is a kit that lets fourth grade students interact and produce a model of erosion. The students work cooperatively in small groups. They experiment with the forces of water on the earth, rock, and grass model in a basin. The students travel to each group's model and discuss the results of the investigation. Each child records in their journal their observations and then reflects on what they observed. The vocabulary about meandering, delta, alluvial fans, etc., was now more than just terms, but vocabulary established in their memory banks. The teacher used this investigation for Parent Open House. One mother of five children was very impressed because she was reminded of her older child who had difficulty learning these same words in a "look it up" learning situation.
The excitement a learning disabled child exhibited during a "Magnets and Motors" kit investigation would thrill even a non-science loving teacher. The child had difficulty reading and recording because of dyslexia, but was intuitive when it came to how a motor works. During the inquiry investigation he was the only one in his fifth grade class of 27 students that was successful on the first try. Science was the one place this child felt no lack of self-esteem. His success actually was instrumental in his decision to become a mechanic.
A sixth grade student being able to analyze a solution and determine how to separate it was a true day of educational victory and brought the statement, "I really like school."
Through the K-6 inquiry based cyclical hands-on science content experiences, the students of the Northern Panhandle acquire content knowledge using literacy skills, along with critical thinking skills. Teachers use one of the best thinking skill guides, Bloom's Taxonomy, in the quest to move students from lower levels of thinking (knowledge, comprehension, and application) to the upper three levels (analysis, synthesis, and evaluation). Bloom's Levels are cumulative: i.e., any level incorporates learning at all levels below it. The lower 3 levels (knowledge, comprehension, and application) comprise a convergent thinking process, where information learned at the first and second levels is brought together at the third level and applied. The upper three levels (analysis, synthesis, and evaluation) describe a divergent thinking process whereby new insight and thoughts which were not a part of the original content, result. These 3 levels often overlap each other.
http://192.107.108.56/portfolios/m/murray_k/final/bloom.html

At the knowledge level, simple recall of previously learned material occurs. Then the second level, comprehension, involves the ability to make sense of the material by predicting outcomes and effects, estimating, or explaining. At the third level, application, the ability to use learned material in new situations, the learner computes, demonstrates, uses, etc. Then the student moves into the fourth level, analysis, by breaking down into parts, understanding organization, concluding, interpreting diagrams, etc. The fifth level, synthesis, is unique communication, creating designs, rearranging and putting parts together to make a new whole. The sixth level, evaluation, is the ability to judge values for purpose, support judgments with reason (no guessing), compares, supports, concludes, summarizes, or contrasts.
The above examples are not stumbling blocks to students, but stepping-stones to success in school and hopefully their future. The RESA 6 students have been traveling the Bloom's Taxonomy staircase starting at knowledge by recalling facts. Next, comprehension, involves organizing, comparing and contrasting objects and ideas from the West Virginia Handle On Science Kits. This is followed with application by applying their information and understanding to different investigations and previous knowledge from previous kits. Analysis of the graphs and data the students collect throughout the hands-on, minds-on inquiry investigation is next. Then followed by synthesis, writing and reflecting about events and experiences they have had during science kit exploration. Finally, the students engage in the evaluation stage where they acquire a perception of the value of their information by debating and / or justifying its importance to their world or the future.
The National Research Council states "Americans are confronted increasingly with questions in their lives that require scientific information and scientific ways of thinking for informed decision making." The critical thinking skills that the Northern Panhandle students are acquiring using the West Virginia Handle On Science Kits that incorporate Bloom's Taxonomy will prepare them for a future different than we know imagine.
John Dewey once put it, "if we teach today as we taught yesterday, we rob our children of tomorrow." The opposite view of this is – if we nurture strategic learners who can sort, analyze, compare, contrast, synthesize, infer, apply, make decisions, and use information meaningfully in their lives, we have enhanced our children's future. They will be able to use their understanding of science to make informed personal and societal decisions. By having the literacy skills, students will communicate and learn new concepts needed in tomorrow's global marketplace.
Local businesses and industries support and encourage the West Virginia Handle On Science Project because they know the future needs of our area and our state. Both are rapidly changing from industrial to technological and scientifically based careers. Teaching the students using the same old methods, de-emphasizing, or even eliminating science in our classrooms will restrict many students' future career choices.

By Barbara Dofka, 2004, Revised and edited, January 2006